Wednesday, May 11, 2011
Final pic of the cake with the special girl herself: my sister-in-law. She loved it, BTW.She specially liked the bow.
Posted by

Arlene Ríos
at 9:31 AM
No comments:
Links to this post


Saturday, May 7, 2011
Are difficult to do.
Wow! I've never thought that it would be sooooo difficult to frost and apply fondant to a square cake.A friend of mine told me that's the reason a square cake tends to be more expensive than a round one. (not that is any easier to apply fronting and fondant to a round cake anyway...)
The cake is two tier, two layers yellow cake with cream filling. In very Puerto Rican cake tradition it has syrup inside. (Most of my cakes are moist because I pour syrup right before starting to decorate.)
Pic below is the bottom tier already covered in fondant. If you REALLY notice, the corners are a bit of a mess. Just a bit.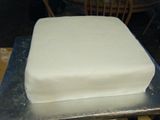 Both cakes have this problem, so my solution for this was to pipe stars in the corners. But then I realized that I'd have to pipe ALL of the cakes' edges so it would look better. So off to prepare more butter-cream and get the hand ready . Applying butter-cream is murder on my hands. Reason why I started to do the fondant.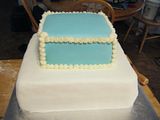 So you can see in the second picture the top tier is already piped. I have to say I was very pleased with how it turned out. I haven't done any piping in years.
I then realized the cake looked like a baby shower cake for a baby boy. So I decided to add some pink roses to make it less " baby showery"
I think the roses help to make it more "Mother's Day" than baby. I hope!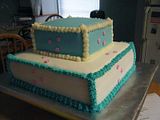 The next thing was to make something for the top. I thought roses but then I have looked at a cake at the Wilton site with this huge bow on top, so I wanted to try that. And that's what I did.
The little papers inside is for the bow to keep its form while the fondant dries out.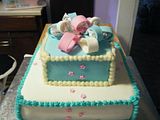 And here's the final cake. Once the fondant dries I'll take out the paper, but I couldn't resist taking this pic. I'll try to remember posting another pic tomorrow.
More pictures here in my
photo-bucket album
.
Posted by

Arlene Ríos
at 3:30 PM
No comments:
Links to this post


Wednesday, May 4, 2011
I actually did two cakes in a hurry but only took pictures of one.
This one was a cake I baked Thursday morning and decorated it later that night for my step-daughter's 19th birthday. She likes hot pink and black. She particularly liked the black roses. Nothing too complicated, just a cake done quickly.
The other cake was one I just frosted in buttercream. I didn't do any fondant work. But I forgot to take pictures of it. I'm still practicing my buttercream application but for heavy decorating I think I'll stick to fondant.
Posted by

Arlene Ríos
at 9:23 AM
No comments:
Links to this post