This is a cake I made for my brother-in-law Mario. He was so generous with hi birthday gift to me that I knew I had to bake him an awesome cake. At first he just told me to make it pretty and girly. (yeah, he's girly) But then hubby David, who as Mario's brother knows him pretty well, suggested the Wonder Woman theme.I asked Mario and he texted back with a big YES! so I got to work.
I looked around and found a cool cake in YouTube that I thought I could mimic. But looking at the cake I knew I'd need two cakes.
He has asked for a red velvet cake, so I searched online for a good recipe and decided to use the one by Paula Dean at the FoodTV website. Very easy to do. I then decided to make my basic yellow cake, but since I was going to make cream cheese frosting for the red velvet cake I changed plans and baked a cream cheese cake. Th recipe was given to me by my aunt.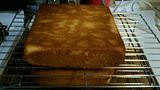 I used round pans for the bustier (the red velvet) and square pans for the pants (the cream-cheese cake). Then it was just a matter of carving. The results might be considered anatomically incorrect but hey! it is just cake!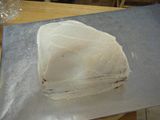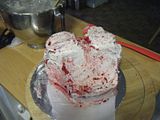 Crumb coating the red velvet was a PITA, even though I left the cakes overnight on the fridge for easy carving. AS you can see in the pic above the red velvet cake looks like a science experiment gone wrong.
But in the end it was all worth it. I am very pleased with this cake. My only complaint is I wish I could have done the lasso differently.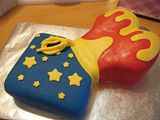 More pictures here on my
Photobucket
The idea for this cake I got it from this video:
Until the next one!!!