Cake I baked and decorated for Father's Day. Those small cans were a PITA to make because they are SMALL and I hand-painted the letters (Not a painter here). Cake is basic yellow with a chocolate pudding filling. Covered in light green fondant with piped edges. The figures were made a couple of days ago with fondant to which I added tylose powder.
Overall, I'm very pleased with how it turned out.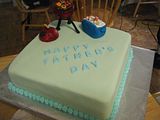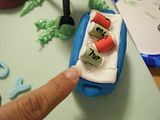 Happy Father's Day to everyone. I lost mine a couple of years ago, so I know he's smiling at me wherever he is :) Miss you Papi!
Cross posted at
Cake Decorating
and my
Live Journal