And by "done in a hurry" I meant exactly that. I went to PR this past couple of weeks and my niece's birthday was during those days so I asked my mom if she could helped me with the cake. Since I didn't want to deal with the high humidity (humidity + fondant in PR = NOT a good combination) I decided to make it from the box and use store bought icing. It goes against everything in me to use store bought icing, but I was not in my kitchen, I had had issues with the humidity in the past (last year to be exact. I don't know how bakers in the island deal with it, honestly) and like I said, it was a rather hurried cake.
I have to say I am actually please with the way it turned out. My mom baked the cake earlier and I took over the decorating. I basically decided to use one jar of vanilla white icing and one can of pink icing so I could do stars or flowers. It was limited but It'll have to do.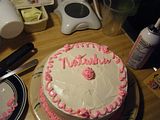 I frosted the cake and smoothed it as much as I could. While I was doing that the birthday girl have already arrived and she got to see me doing the pink stars along the edge of the cake with the canned frosting. I decided to make it work for me. Simple as that. And my niece loved it, which to me was the most important part.