Cake I made this past week for my sister-in-law. It was my first time making the zebra theme.
Top tier is cream cheese, bottom tier is chocolate. Both are covered in fondant. The white fondant is marshmallow fondant that I made the day before. The pink fondant was Satin Ice as well as the black. I also applied vodka on the black fondant pieces to give them so luster as well as getting rid of any cornstarch.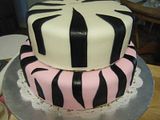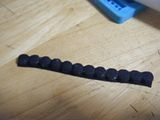 Instead of doing the little balls by myself (and *ahem* after trying and failing miserably) I got me one of these handy Wilton molds and voila! instant border for the cake. Good investment there, and VERY easy to use.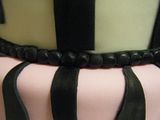 The bow on top was made weeks ago for another cake I was planning but instead I made the
Wonder Woman cake
. So I decided, since it was already made to use it to top this one.
Needless to say I was exhausted when I was done. But my sister-in-law loved it. So it was worth it.
Now to tackle my next project: cowboy cake for next weekend.