Tried my hand at making baby booties out of gumpaste. They turned out really cute! One of the teachers at the department is expecting a baby, and the wife of another is also pregers so we're throwing a double baby shower. I volunteered the cake.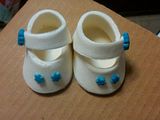 And now my hands are killing me. I was trying to make two turkeys out of gumpaste but I guess I did my quota of kneading for today. The photo below is of the turkey I made the other night. I wanted to make two more.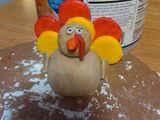 I'm planning cakes for our department's luncheon, my family's gathering, and maybe one for Honors College (if they are planning something. So far I haven't heard anything).
I feel like a wimp...