Cake I delivered today. Took two days of work. After this cake I don't know if I ever do another purse cake, but I do know I won't be doing a Coach purse anytime soon. Too many darned C's...
The cakes are both zebra cakes. The bottom tier is vanilla and chocolate, and the "purse" I dyed one half of the batter pink with food coloring.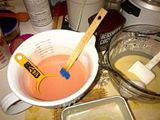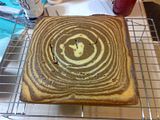 pink zebra cake: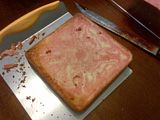 purse: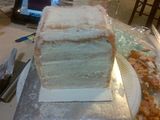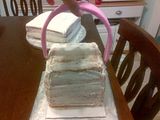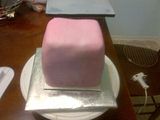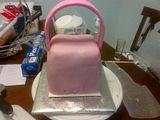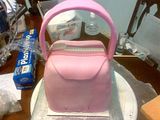 bottom tier: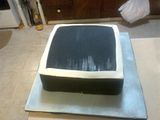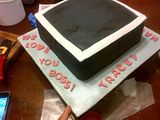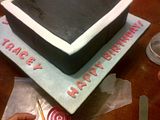 I had a HARD time with the C's. Thought about cutting out C's with my small cookie cutter. Didn't quite worked out. Then I was thinking about hand painting them but I am not a painter, and my hand is not that steady. Then I created a stencil with some old transparencies I have here that I am no longer using (who needs them when you can use PPP). Went to the store, got me a can of edible Wilton pink spray. Tried to stencil the C's in and... disaster.
Ended up painting the whole purse a bright pink to cover that mistake. Turned out for the best.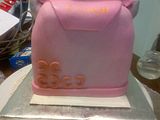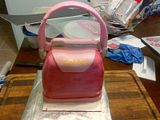 So, I went back to the original plan: cut outs. Only this time I rolled the fondant really thin and instead of C's, I cut O's, to which I cut out a small piece in the center. Much better. (but those were way too many C's, ouch)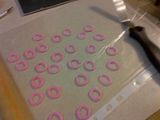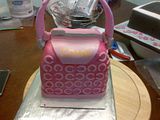 Final cake before stacking:
Final cake all stacked and ready for delivery: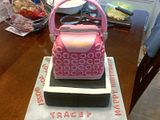 So, I got the cake into the car, and after a nerve wracking drive (thankfully it was a short one), I delivered the cake. The client squealed when she saw it: "That's so pretty! My boss will love it!" And I got to say it got me all fuzzy feeling inside.
As an added bonus today in the mail my business cards arrived: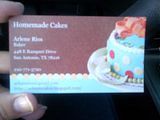 So along with my label (as per
TX cottage food law
), I slip one of my brand new cards in to the box.
BTW, The business cards I got them from
Vistaprint
. They have this offer of 250 cards for $10. (plus S&H).