I tried out two recipes today: zebra (or swirl) cake and a white cake recipe. Both were a bit dry, IMO, so as I was leveling them, I decided to make a quick syrup and poured over both of them. I then made a batch of buttercream and decided to practice my application.
I have to say I am getting better at it.
This the zebra cake, already frosted with buttercream. I took my time and didn't try to rush it. I even used the Viva paper towel.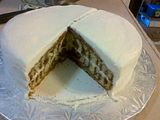 And this is the white cake frosted and with some pipped roses I made with some left over frosting I had. I have to say though, red frosting = red fingernails.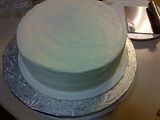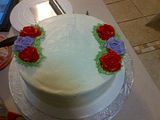 Well, until later! Happy caking!