Oakland Raiders themed cake made with the
strawberry cake I baked
yesterday. The top layer is strawberry and the bottom is basic yellow, as per client's request.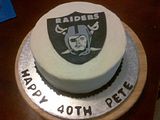 Due to the short notice I didn't really have too much time to be too creative with it. (and let's face it, with black, silver and white as the colors there's nothing much I could do.) But, I thought, let's make the logo out of fondant.
I thought about a buttercream transfer, but I was leery and I have never done one of those to be honest. And I had a hard time dyeing buttercream black, even with adding cocoa powder to the buttercream. Turns out I did things right, I just needed to let it rest overnight.
The client asked not to cover the entire cake in black, and requested, if at all possible, not to use fondant. So, I had to do buttercream. Which I am not still 100% confident working with. I tried as much as I could to smooth it out. Had I have more time to work with, I think it would have been better looking.
If there's one thing I am proud of is of the way the logo came out. I had the hardest time tracing the images over the fondant and then cutting them with my Xacto knife... It's a miracle I didn't cut off a fingertip.
I am now waiting for the client to pick it up and hoping she'll like it. The cake is for her husband's 40th birthday.
More pictures here in my
photobucket album
.