Forgot to post about these because of personal stuff happening in my life right now.
Anyway!
These three cakes were ordered for St. Valentine's Day. I was hesitant about accepting to make them because of my niece's
cake
. It's not my niece's fault that her birthday is two days before St. Vals but holy molly! I will NOT be making any St. Valentine's cakes anytime soon again. I was exhausted by the time I was done with all the cakes.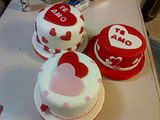 I didn't take that many pictures because quite honestly my priority was my niece's
cake
. But these three turned out cute. It helped they were so small and not too complicated. The one with two hearts is a zebra cake (zebra batter, one half of the batter dyed red). The red one is chocolate and the other one is basic yellow. The red one was crumb-coated in chocolate ganache as well has having chocolate ganache as filling. The other two were crumb-coated in buttercream and had buttercream as filling. All the cakes were covered in fondant as well as the the boards.
The clients all liked their cakes.
But yeah, too much cakes for an amateur like me. In order to make all these cakes I had to freeze the chocolate cake because I baked it a week before (left over from the
chocolate cake
I did). The other two were baked at the same time as my niece's cake and stored in the fridge. I did the all the decorating on Sunday before my niece's birthday party. (I have done her cake on Saturday)
Well, that's it for now.
No new cakes for now. I guess everybody is broke after St. Valentine's.