Just finished the cake... and Dave finished installing the new faucet and water filter. In the process D managed to brake the water valve outside (he said he just was trying to close the water flow when Boom! all of a sudden he's getting inside telling me to call SAWS and he's all wet).
So we had to call SAWS so they could come fix it. And fix it they did, but in the meantime for almost an hour we had water shooting out to the street. (and the city of SA is already under water restrictions *facepalm!*)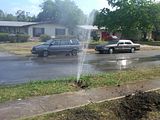 Oh, look, we have a water fountain! NOT!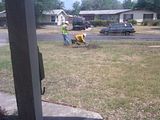 The guys from SAWS hard at work. (seriously the one kneeling was getting that shot of water straight to the face)



And at this point the shot of water was soaking the car parked in front of the obnoxious neighbor's house.

Dave figures that water valve has never been changed. It was not the first time that Dave stopped the water to do some work. I got all wet when I had to get in the car to go to Walmart because D had left the car parked on the street because he figured he would have to go to Home Depot while working on the faucet. So when I told him "I'm going to brave the crowds at Walmart", he answered "first you have to brave the water" He was right damn it!

Incidentally, Walmart was not bad when I got there. Now at almost 6pm?? on the Saturday before Easter?? Forget it! You'd need a SAR team to go in there and good luck getting out in one piece. FULL HOUSE. (I live by the airport... end of the Holy Week and SA is FULL of Mexican tourists this weekend, enough said)

But D got to work while the SAWS guys were doing their thing outside and I now have a shiny new faucet and water filter. The filters are good for six months so I don't have to filter water everyday anymore! (great news for the coffee maker as well) See below!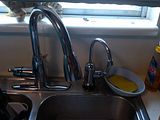 Don't they look pretty?? And the faucet is one of these that you can pull down. *grins like a fool*. Out old one had the hose as well, but it had broken at some point, and overall I was not too happy about it. We have been thinking about changing it and installing a water filter so we FINALLY decided to get those. I'm very happy now. All I need is to have the tile installed and I can finally say my kitchen is complete.
And I'm now beat up. This cake kicked my butt big time. I had planned to make an Easter basket but somehow I ended up doing something totally different.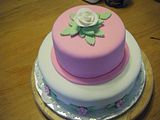 It looks pretty enough, but the pink fondant is cracking and overall it looks OK but I don't really feel too happy about this cake. (What should I do now with the Hershey "eggs"?)
Well now, excuse me while I got rub some cream and take an ibuprofen... *whimpers*
xposted at my
livejournal