Actually it's a cowboy hat cake, but since I made another two (that were originally supposed to be the two bottom tiers) it ended up a theme cake. Does that make sense?
Anyway the cake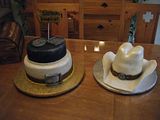 Carrot cake to the left, and the hat is chocolate
I started prep work for this cake weeks in advanced. I made these figures out of gumpaste testing the waters (and testing my new extruder) and also trying out silver luster dust with vodka.
My mistake was that I left them dry flat, instead of following the shape of the cake pan. *facepalm!*
So I went ahead and got me a ball of foam which I then cut in half and made another couple of figures and let them dry over the foam. Much better!
I then started to work on the hat. I was having problems rolling the fondant out and trying to get the form of a hat rim. The fondant was too elastic. (Fondarific). Then I tried with just the gumpaste (also Fondarific) and it didn't want to get thin enough. Then a friend of mine suggested to mix fondant with gumpaste. Since my fondant was an "antique white" I was concerned about the color, but not problem, the gumpaste got thoroughly mixed with the fondant and wow, what a difference! I then used a couple of powder sugar bags to help the rim keep its shape. I did that with plenty of days in advanced. Next time I make a hat I have to remember to make the front in an angle.
The party was for Saturday, so on Thursday I baked all the cakes I thought I would need. After baking each cake was wrapped in plastic. For the cake I baked chocolate, for the intended base I baked carrot. Since I was going to carve into the chocolate, those were stored in the fridge. It's easier to carve when they are cool.
Friday morning, the first thing I did was make a batch of creamcheese frosting. (Can't have carrot cake without it!) I then started to work on the chocolate cake. Even though it was cool from the fridge, that didn't make it less messy to carve, but I did have less crumbs had it been left on my counter top. I then crumb coated that cake with the creamcheese buttercream and let me just say that chocolate cake + creamcheese frosting = big mess. But I got it done.
I then made a sigh out of gumpaste, using my pretty cool plastic mold that I have bought a few days before.
took me a while to get this imprint on
I then worked on leveling the carrot cakes and making layers, and I almost had heart failure when I saw how tall the 10 inch cake was. I realized then and there that I needed an extra layer for the 8 inch cake but at that time I was not going to bake anymore, so decided to work with what I have.
Then it was time for rolling out the fondant and try to cover the "hat". The Fondarific brand is very elastic, and it's easy to work with, but for this hat, since I was using "antique white" as I cover the cake I realized it was not a good choice for chocolate cake, because you could actually see the cake, even though I didn't rolled it too thin. I decided to roll some more and make it a double layer of fondant. I think it worked!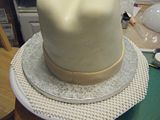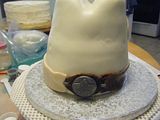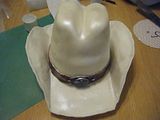 Looking at these pictures I realized I forgot to take a pic of just the cake without the belt. That belt was done with fondant to chich I added some brown, but I guess Fondarific is not made to add color or if you do, better use an air brush, so I ended up hand painting it. I actually liked the result. It gave it an old worn look. I then sprayed edible glitter to the finished cake.
I then got to work on the other cakes. By the time I was done I was TIRED, but very pleased with the overall look, except that I decided not to make it a triple decker because frankly it looked hideous when I tried it.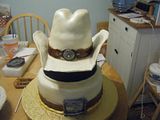 Not quite what I was looking for
So, when I got to the birthday boy's house and we put the cakes in the table, I asked him and his wife if they wanted the hat on top, and they said they actually liked the hat by itself. Whew!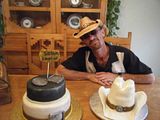 The birthday boy
Speaking of the birthday boy, he spent the whole time thanking for me the cake and insisted on having a picture taken with me. So here it is!