The first one is a Goth/Victorian/Edgar Allan Poe inspired cake.
I was told the recipient was into Gothic and Victorian stuff. Since I have this
Wilton fondant mold
with birds and branches on it, I thought: bingo! let's make a reference to The Raven by Edgar Allan Poe. That should cover the gothic, the Victorian and then so more.
The cake is chocolate, covered in white fondant with black fondant accents.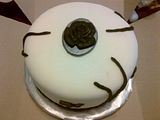 The cake has black branches for a creepy look as well as birds on the side. I wish I should have taken a better picture...
The second cake is a creamcheese cake. It was a last minute request from my sister-in-law for a good friend of the family. I thought, what better than a gift-box since I was basically drawing a blank re: decorations. The pink was achieved using a Wilton pink spray can (I really need to invest in an airbrush... ) Our friend loved it, so all was well.