I just baked a strawberry cake, using this
recipe
. I have to say it was very easy to follow and most important: no jello, no cake mix in the picture. Nothing against cake mix, but one thing I proud myself is in the fact that all of my cakes are from scratch.
So, first thing is to puree the strawberries. Took a while, but I got it done.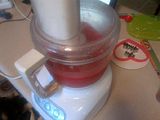 Then mix the ingredients. I was curious as the way the batter is mixed. First you whip the egg whites and the liquids, then sift the dry ingredients, put them in the mixer, start the mixer and add the butter to the dry ingredients. Almost like making biscuits. THEN you add the liquids, and see the magic happen.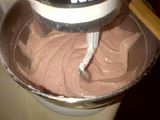 Then, pour batter on two 8 inch pans. As you can notice I lined the pans with aluminium foil and damp towel paper. This prevent the "dome" to form during baking. It worked beautifully.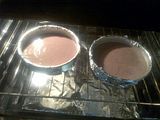 The cakes as they are cooling. I will use this cake for an order I have pending. I am planing on using the leftover puree for a filling.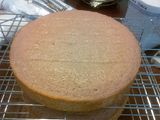 Happy cakeing!